Admission control – secure management of the maximum number of people in spaces
Upper limits for the number of people in a room imposed by the government throw up new questions for the operators of publicly accessible buildings. How can it be ensured that people wait outside because the maximum number of people are already inside? And how can an automated system indicate with pinpoint accuracy that a building may now be entered again?
Controlling paths and groups of people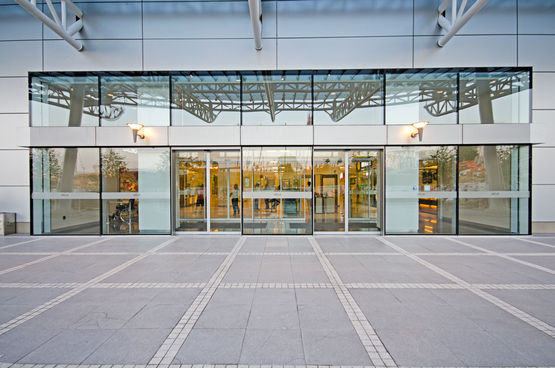 Automatic door system in the Akbati shopping mall in Istanbul, Turkey © Tarık Kaan Muşlu / GEZE GmbH
Customer flow control and concepts for separating people in public buildings have always played an important role for operators. The coronavirus pandemic has brought these considerations increasingly into focus because customer flow control involves analysing the number of customers and the routes they take, and directing and controlling these correspondingly. Flow control manages access to buildings – even with a high number of people. This is often achieved using special flow control systems such as turnstiles or revolving doors. The main task of flow control systems is to ensure that only authorised persons can enter a building or rooms under control and safely.
Slowing down for a better shopping experience
Concepts for customer flow control and separation are concerned with giving customers or visitors space: for example, revolving doors at the entrances to airports, stores or Shopping Malls slow down access – ensuring a continuous flow of visitors. If lots of people enter the shopping mall at the same time, for example, there would be regular jams, impacting on customers' shopping experience. In this case, the flow control system allows each customer to enter the space individually, not surrounded by other people, thereby giving them a better overview of the shops on offer. These systems are often combined with person counting, but mostly they are used purely for statistical reasons to optimise the flow of customers. The following is of interest for retailers: How many customers enter the store and at what time? What paths do my customers take and at what time? However, many of these systems do not currently offer admission control by automatically closing doors when a specific headcount has been reached.
Entry allowed? Authorisation is checked via traditional admission control
We're all familiar with the friendly gentleman at reception, the elegant opera attendant or the beefy bouncer. Sometimes, admission control is still pure manual labour. As it is mostly concerns a privilege or a service, access only to authorised must be guaranteed. Within a wider context, the control of authorisation is increasingly performed by digital access control systems – such as at the entrances to stadia or at airports. Specific access management to maintain a distance between people or limit numbers to a defined headcount to prevent virus infection, for example, was not as important in the past. Primarily, the aim is to control access authorisation securely and quickly. The doors open only after a successful check.
Combining control and authorisation: a new need encourages creativity
To regulate the number of people in the store or shopping mall, many retailers use elements of classic admission control. Often, additional staff at the entrances count how many people are in a building. If a customer leaves the store, another is allowed to enter the space – overall a time-consuming task which is liable to errors. Other store operators use a limited number of shopping trolleys or baskets to regulate the number of people. Alternatively, they rely on self-constructed traffic light systems that show whether entry to the store is currently allowed.
GEZE Counter – the professional solution for digital admission control
With GEZE Counter, we offer a solution that intuitively combines the possibilities of authorisation and customer flow control. By connecting GEZE Counter to retailers' traditional door functions, it allows effective control of the flow of customers and at the same time prevents access when predefined limits are exceeded. This allows retailers to implement regulatory instructions, for example during the course of the corona pandemic, while simultaneously concentrating fully on their business.
GEZE Counter – benefits and advantages
Use of the door as a clear physical barrier to access control relieves staff and eliminated the need for security services
Modular and minimally invasive system that can be integrated into existing systems
Flexible setting of the current maximum permitted number of people (upper limit)
Efficient and safe compliance with regulatory instructions
Optional visual display of the occupancy status for customers via a traffic light function in the entrance area
How does admission control work with GEZE Counter?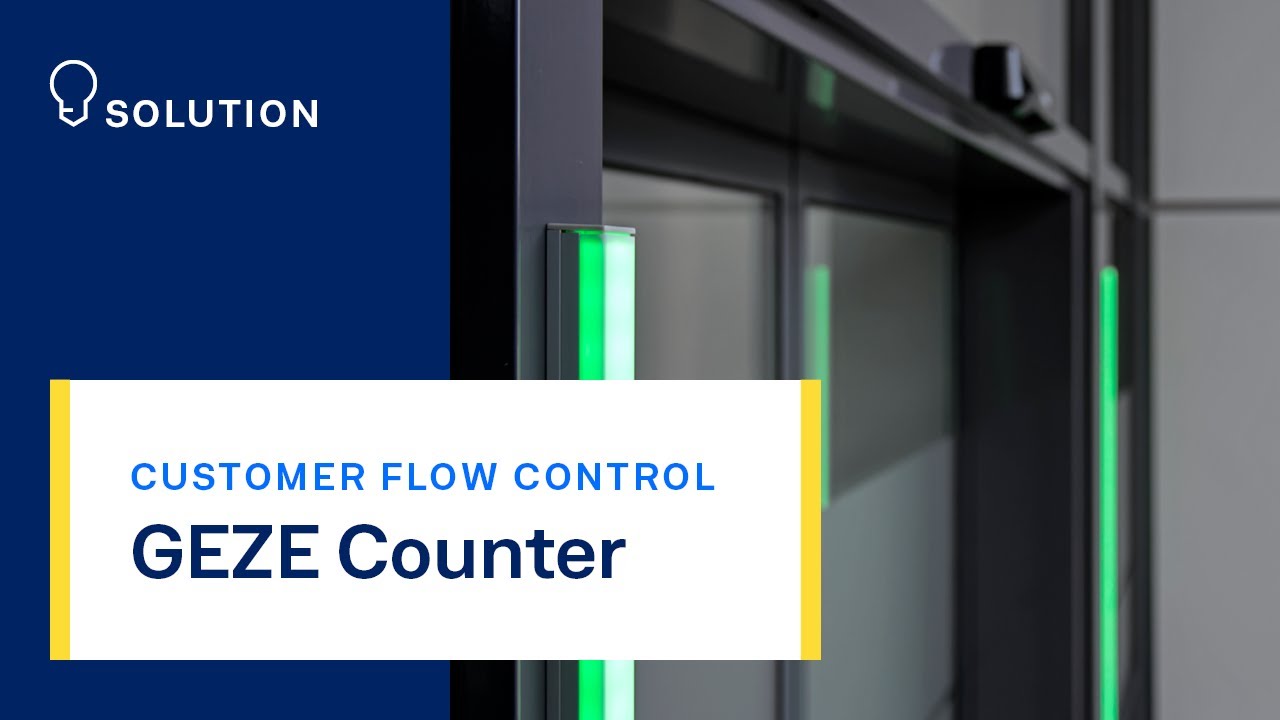 The GEZE Counter sensors record each person who enters or exits a store. As soon as the maximum number of persons is reached, the entrance door remains closed to the outside. It is still possible to leave the store – and the safety of escape routes remains guaranteed. If the maximum number of persons in a defined space is reached, the LED bar at the automatic door turns red – as a visual signal for people waiting outside. As soon as the premises are empty, the doors are unlocked. The display at the door switches to green – and indicates to the people waiting that they may now enter the store again.
Smart networking and retro-fitting option
GEZE Counter Connect is networked and allows the user to perform numerous settings and evaluations in real time. As a result, the operators can conveniently regulate the maximum number of people from their smartphone, view the current capacity and retrieve statistics about the customer flows in different visualisations. GEZE Counter Connect can be installed as a complete solution or as an upgrade to existing systems. It is compatible with all GEZE automatic door systems and with many systems from other manufacturers*.
*All GEZE sliding door systems can be fitted with GEZE Counter Connect. The compatibility of third-party products must be checked first.
GEZE Counter can be flexibly adjusted to changing regulatory instructions and ensures the continuing operation of retail businesses. Thanks to the automatic entry control, employees can revert to their actual tasks in the branch.
Sebastian Krannich, Business Solutions Manager/Product Manager for GEZE Counter
Safe admission control with GEZE Counter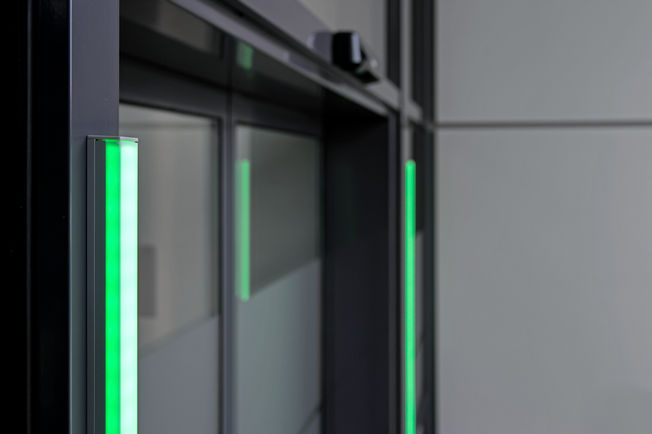 Come in please!
The visual green signal at the automatic door indicates that people may enter the building. © GEZE GmbH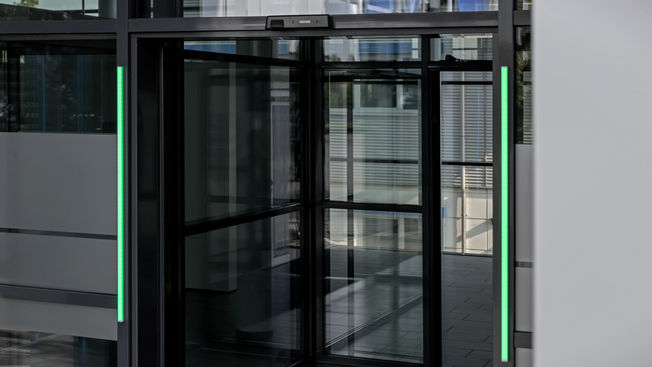 Light signal as design object
The narrow visual LED signals fit well into the design of automatic door systems. © GEZE GmbH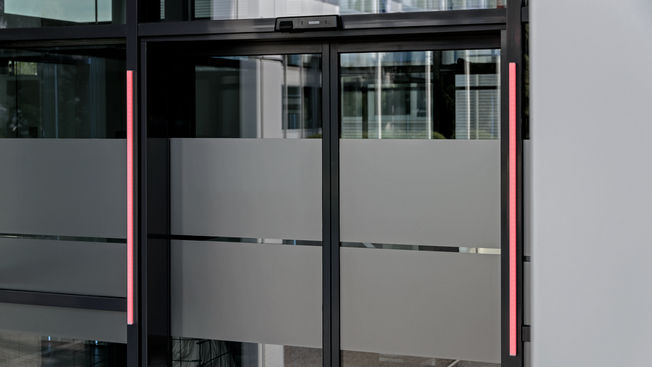 Entry not allowed!
The red light shows visitors that it is not currently possible to enter the building. © GEZE GmbH
The GEZE Counter modular admission control system
GEZE Counter comprises two components, which build on each other – GEZE Counter Connect and GEZE Counter Connect extension.
GEZE Counter Connect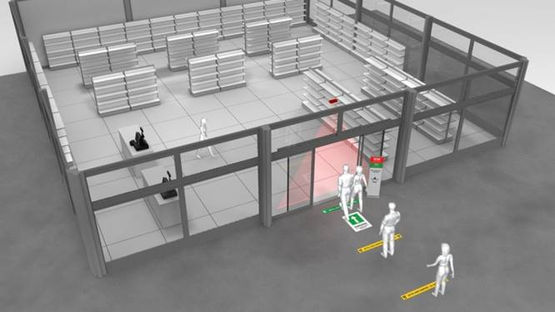 GEZE Counter counts all the people who enter or leave a building. © GEZE GmbH
The basic package includes the counting system (counting management) with
counter sensor technology and a high degree of accuracy

Software to define the maximum number of people

Creation and evaluation of visitor flows
The door connection is fitted as an upgrade to the existing automatic door system via a logic box with the door as a physical barrier.
GEZE Counter Connect extension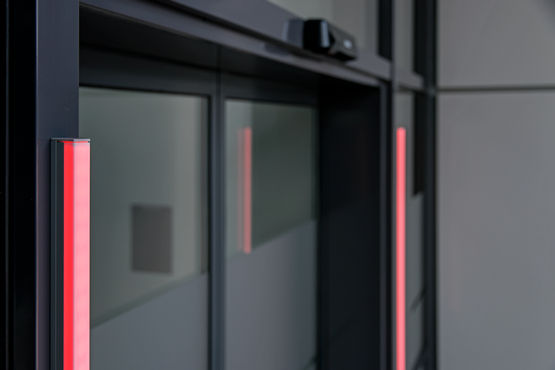 A red light shows that the entrance is currently blocked. © GEZE GmbH
The optional extension to GEZE Counter Connect also offers:
Status visualisation by means of a traffic light function
Visible recognition of whether entry is permitted
An investment that pays off in the long term
General plus point of GEZE Counter: The number of people in a building can be adjusted at any time so that it is "pleasant" for the people inside. The operators can easily set specific upper limits at any time and individually, to prevent the risk of Covid-19 infection due to the store being overfull, for example. Long-term use of GEZE Counter is possible, e.g. in a seasonal or day-specific application. If, for example, a business is understaffed due to personnel shortages, the system can be used to set the maximum number of customers in the store. Finally, the data acquired with GEZE Counter can be evaluated in many ways. This is where smart sales and marketing experts come in to compare customer flows with buying behaviour, or customer flows with the respective time of day.
Sector-specific full packages
GEZE supports you with specific, industry-specific proposals for integrating systems for digital admission control. Whether planning a new door system or checking and expanding an existing system.
The full package of services from GEZE consists of:
Consulting
Development of solutions
Project planning
Products
Installation
After-sales service.
Our many years of experience in the market and the corresponding know-how speak for themselves in individually developed solutions.
Hotline for architects: +49-7152-203-112
Full realisation and maintenance service
GEZE offers comprehensive services for the installation and maintenance of systems. Of course, we also keep the corresponding installation instructions available.
Comprehensive service from the outset
Alongside planning, installation and maintenance of the systems, GEZE also offers you individual advice and services for special solutions. Your demands and needs in terms of the modern implementation of admission control are challenges for us, which we are happy to take on.
Contact our GEZE solutions team
Individual solutions from GEZE
Haven't found the right solution for your specific needs among our standard products? Then let our experts help you find a custom-tailored solution from our product range.
Call us on:
GEZE-Hotline +49-7152-203-055