Topics
Electronic access control - flexible and safe
Access control reliably denies access to uninvited visitors, and allows authorised persons to pass through. The key issue is, who is authorised to access where and when? After all, the safety of people, valuables and data is at stake.
Stop! Please show your ID!
This is how unknown or unauthorised persons were once prevented from crossing borders, accessing factories or the gates of government buildings. Security staff, gatekeepers and doormen often still closely monitor who is permitted to pass through a door, and who isn't.
Company buildings, offices and warehouses hold all manner of valuables and data calling for maximum protection against theft, espionage and vandalism. Employees who rightfully and regularly access a building are either known to the gatekeeper, or have one or more keys. But the age of jangling keys is a thing of the past, because modern security systems are keyless, – making them convenient and safe as well.
Modern access control systems electronically regulate who can go where within a building or site, and when. They are customised to the type of company, its operational processes and traffic flows.
For example, hospitals, pharmacies, data centres, airports and banks have particularly sensitive areas which need to be protected against unauthorised access. In hotels, only hotel guests are permitted access to their room or the wellness area. Conversely, department stores grant all users access during business hours, but allow only authorised persons to enter outside these times. And while all employees need access in manufacturing companies, only certain staff should access hazardous or highly confidential areas, for example.
Components of access control systems
Access control systems consist of at least three components:
The identification media, e.g. an ID card.
The (card) reader, which records the identification information and/or data and forwards this to a door controller (DC) or access control unit (ACU) for evaluation and/or administration.
The door controller (DC) checks the access authorisation and grants or denies release of the door, even without a permanent connection to higher-ranking access control units (ACU). If a check is positive, an electric door drive, a motor lock or if applicable an electric strike grants access.
Additional door and bolt contacts are connected to the Door Controller to monitor the status of doors (closed, locked, open). This identifies any manipulation and break-in attempts and triggers alarms.
Modern access control systems can manage the access rights described above both online and offline. Offline systems consist of digital cylinders and door fittings and, in contrast to an online system, the authorisations are saved on the ID card.
Benefits of electronic access control systems
Protection of valuables and data via controlled access: staff and visitors have individually defined access authorisation to specific areas at specific times
Changes can be made to authorisations at any time
Numerous access profiles can be defined
Permanent overview of all personal access authorisations
No need to change the whole system if the identification medium is lost; immediate suspension of the lost transponder or ID card is possible
An alarm is generated in the event of manipulation or an attempt at unauthorised access
No more 'forgotten' doors
Coupling of access control and time recording possible via a multi-application means of identification
GEZE: optimal solutions for individual security concepts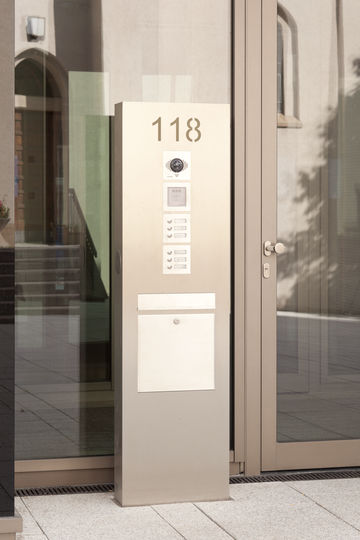 Access control system with RFID wide-range reader
GEZE provides individual access control solutions – tailored to the respective sector and client-specific needs. Each solution is compiled for the particular client from a range of GEZE products.
As compact, web-based system solutions which include all the door-related components, GEZE access control systems meet the demands of modern identification systems. Visitors and staff are granted access to specific areas, at set times – and access rights can be changed very quickly for each individual door. The minimal dimensions of the access control units and the integration of the ID readers into the building installations leave plenty of scope for freedom of door design. GEZE access control systems can be used for a single door, networked door systems or in higher-ranking building management systems, such as myGEZE Control.
Go to GEZE safety technology access control systems product brochure (PDF | 5 )
GEZE GCER 300 RFID reader
The GCER 300 access control system offers simple authorisation assignment and management via a system master card and the PIN keypad on the reader. Up to 200 users can be managed in this way, and lost or defective ID cards can be deleted individually from the system. Users can either gain access by means of an ID card or a personal PIN. Secure interior doors are activated by a relay directly on the reader (GCER 300 Light) – meaning that there is no need for an external control unit, which makes connection considerably easier. Or via the GCER 300 I/O box, which activates both interior and, in particular, exterior doors.
Go to the GEZE GCER 300 RFID Reader
TOPLOCKS number code locks
You won't need keys or identification, just the right number. Our TOPLOCK number code locks are a simple and extremely practical way of authorising access. Your door will open only when the right number combination is entered. So it's impossible to get locked out – for anyone who knows their code. Use our various versions for indoor or outdoor areas. For example, our CTS products offer a particularly durable metal keypad.
GEZE combines access control and safe rescue routes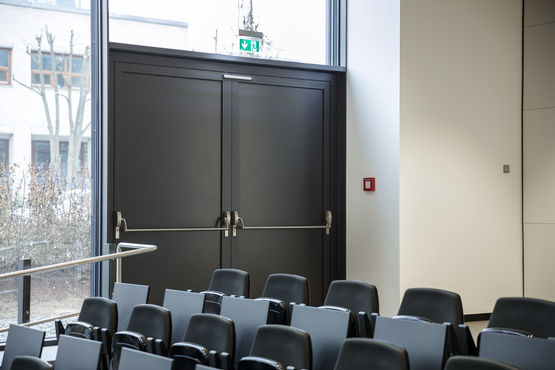 Panic bar to easily open the emergency exit, with panic lock
Determining and controlling who is authorised to enter a building is part of a building's safety design. But safety should not just be about access, it also needs to consider safe escape from a building in emergency situations. In an emergency, everyone needs to be able to get out – but not everyone should be able to enter an open emergency exit. Security must not be at the cost of safety.
GEZE motor locks with a panic or full panic function unlock doors by motor in response to a signal from the access control system, for instance. They can also be unlocked mechanically at any time in the event of any emergency. After use, the self-locking function locks the door again in compliance with insurance requirements.
Case study: access control networked in Smart Buildings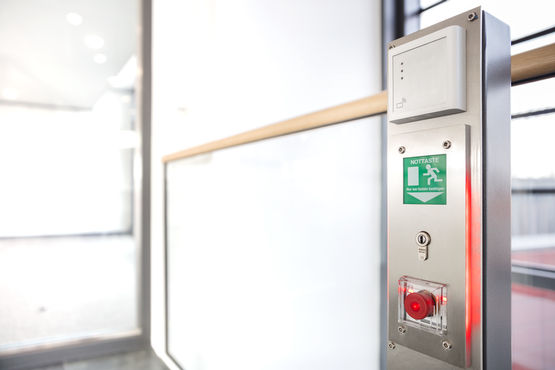 Smart networking: multifunctional safety door systems © Jürgen Pollak / GEZE GmbH
The business headquarters of Vector Informatik in Stuttgart demonstrate how modern access controls integrated into building management technology work. To enable the constant monitoring and operation of more than 180 multifunctional security door systems, all the automatic door systems in the new IT Campus of Vector Informatik are networked via an interface module in the BACnet building management system.
GEZE provided customised digital networking solutions. As part of this, specific distribution boxes serve as the central intersection points where all the cables and the BACnet interface module come together. The uniform structure of the distribution boxes provides the building manager with an overview of the interfaces with other product groups at every door, and thus of the networked building technology.
Sector-specific full packages
GEZE BIM door objects help with building planning, or more specifically with door planning. Our architects also provide assistance in terms of individual and sector-specific access demands, for which we have compiled specific solutions. With its industry specialists and many years of experience in the market, GEZE delivers the expertise you need.
Customers receive the full package from us: consultation, development of solutions, project planning, products, installation and after-sales service.
Building automation is the future – and networking access control in building management technology is precisely what we're about. Networking allows customers to constantly monitor door statuses, and intervene remotely if necessary.
Hotline for architects
Our project consultants are available via the GEZE architect hotline (Mo-Thu: 9:00 a.m. - 4:00 p.m. / Fri: 9:00 a.m. - 3:00 p.m.) to provide you with detailed information and advice on our products and their use. Give us a call on +49 (0)7152/203-112.
Training in the basics and installation
GEZE provides training on access control, IQ locks and safety technology topics:
Quick help
Access control is a sensitive subject, especially when not everything works as it should. Here too, you can rely on GEZE as a partner. GEZE Service offers quick assistance and solutions, and the support of service contracts as well as immediate help. Our large global team is ready to help.
GEZE also offers numerous tools to support door planning.