Industry solutions
Building management systems in homes and apartments
Care-free in your own home: with building management systems by GEZE, home owners can get one step closer to the dream – whether through smart and comfortable door closer systems, practical door damper systems, or elegant glass sliding doors.
GEZE front door pack – everything from a single source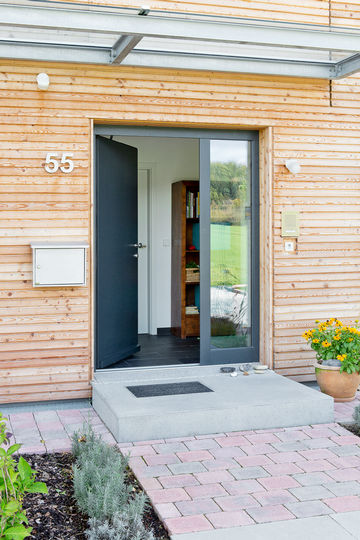 The ECturn Inside makes entrance easy. © GEZE GmbH
We've all been there: you are standing outside your door with your hands full and have to put everything down to get the key out of your bag and open the front door. Or you are sitting in your car and not certain whether you closed the door behind you properly when you left the house. The GEZE front door pack turns your entrance door into an intelligent access solution – automated, needs-based and ready for digital integration.
The GEZE entry door package is the barrier-free solution for private front doors for houses and apartment buildings. Users and installation engineers benefit from a modular solution that can be arranged as required - all from a single source. From the combination of an automated swing door drive such as the ECturn Inside, an access control system such as a fingerprint solution and a multi-locking system, a comfortable, secure and energy-efficient access solution is created, including Smart Home connection.
GEZE ActiveStop – new door convenience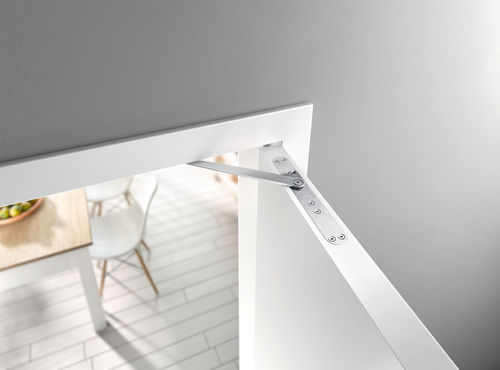 GEZE ActiveStop is integrated into the leaf.
The GEZE ActiveStop door damper can gently slow doors and offers silent closing: this means slamming room doors, trapped fingers and defects on walls or furniture are a thing of the past. No matter whether you give the door a little shove or a powerful push – the door damper reliably and safely catches it between 25 and 60 degrees.
GEZE ActiveStop also supports you in opening the door, as the system moves the door independently and safely as far as the hold-open position, which can be set individually between 60 to 140 degrees. That means the door cannot damage the walls or furniture. GEZE ActiveStop brakes the door at the right time and keeps it open safely in the required position.
The soft close principle is used when closing doors: thanks to active damping the door is halted from around 25 degrees, then closes quietly and automatically. GEZE ActiveStop not only prevents the door from slamming loudly, but also avoids damage to the door and trapped fingers.
Partition walls, glass partitioning walls, and sliding doors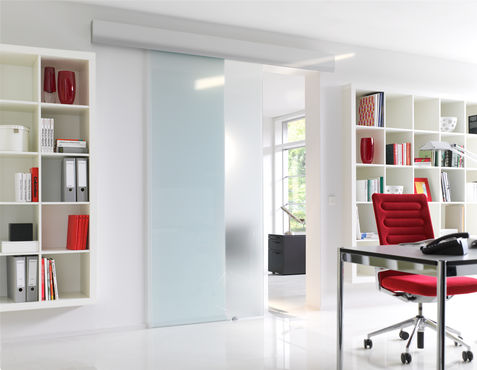 Sliding doors both separate and connect while saving space. © Studio BE / GEZE GmbH
GEZE solutions help divide and design different areas in private homes. A glass partitioning wall, for instance, can be placed between the kitchen and living area. Smells stay in the kitchen, while light and atmosphere flow between the two rooms. You could say that the wall not only separates the rooms from one another, it also connects them. With the Levolan sliding door system, GEZE offers a flexible modular system for ceiling and wall installation: elegant and transparent for a wide variety of different applications. Levolan impresses in everyday operation with a sleek look and effortless movement while opening and closing.
In addition, GEZE offers Perlan as a roller sliding system for single and multiple leaf and synchronous sliding doors. Perlan supports any room aesthetic with its high-quality, sleek design. It can be combined with glass, as well as with wood, plastic, and metal doors. It allows you to open sliding doors easily, and doesn't lose its resistance even with consistent use.
Contact
GEZE Zentrale +49-7152-203-0 Mo – Do: 7.30 – 17.00 Uhr / Fr: 7.30 – 16.00 Uhr
Architektenhotline +49-7152-203-112 Mo – Do: 9.00- 16.00 Uhr / Fr: 9.00 – 15.00 Uhr