Doors and windows in building automation – an interview with GEZE expert, Jürgen Keller
Increasing urbanisation and the need to save resources make intelligent building networking essential. Networking solutions with smart software and certified BACnet communication interfaces ensure efficient building management in Smart Building and open up all new possibilities for system integrators. In an interview, Jürgen Keller, Product Manager Integrated Solutions, explains the advantages of building automation, what to note, and how GEZE handles the challenges.
Mr Keller, in your opinion, why should integrating doors into building automation be a more important focus?
Jürgen Keller: Doors, windows and buildings are becoming increasingly more complex, and requirements applicable to them are increasing rapidly. Today, we are no longer dealing just with classic office buildings and a single tenant. We now have building complexes that may also include a publicly accessible cafeteria, a hotel, and multiple sub-tenants. This results in specialised needs and requirements for doors, and more focus is being placed on issues like building safety and energy optimisation in building operations. Comfort plays a role, too. The concept of remote working has also seen office buildings getting emptier; companies are renting smaller units and want more comfort in return – such as non-contact access to prevent the spread of bacteria and viruses. This shows that comfortable building access via automatic doors is becoming a more popular option, and is also increasingly called for and expected.
How can the safety of a building be improved by integrating doors and windows in the building automation?
Jürgen Keller: The issue of safety plays an important role in building automation. There is a central point where the current status of the building envelope can be monitored and managed with networking over the entire building, with the option of targeted remote control. That is exactly what our building automation and control systems like myGEZE Control ensure: doors are operated and monitored automatically, eliminating time-consuming rounds. It is also possible to release escape routes in a targeted way, or manage intelligent smoke and heat extraction remotely.
Our building automation systems ensure targeted control and monitoring of doors and windows.
Jürgen Keller, Product Manager Integrated Solutions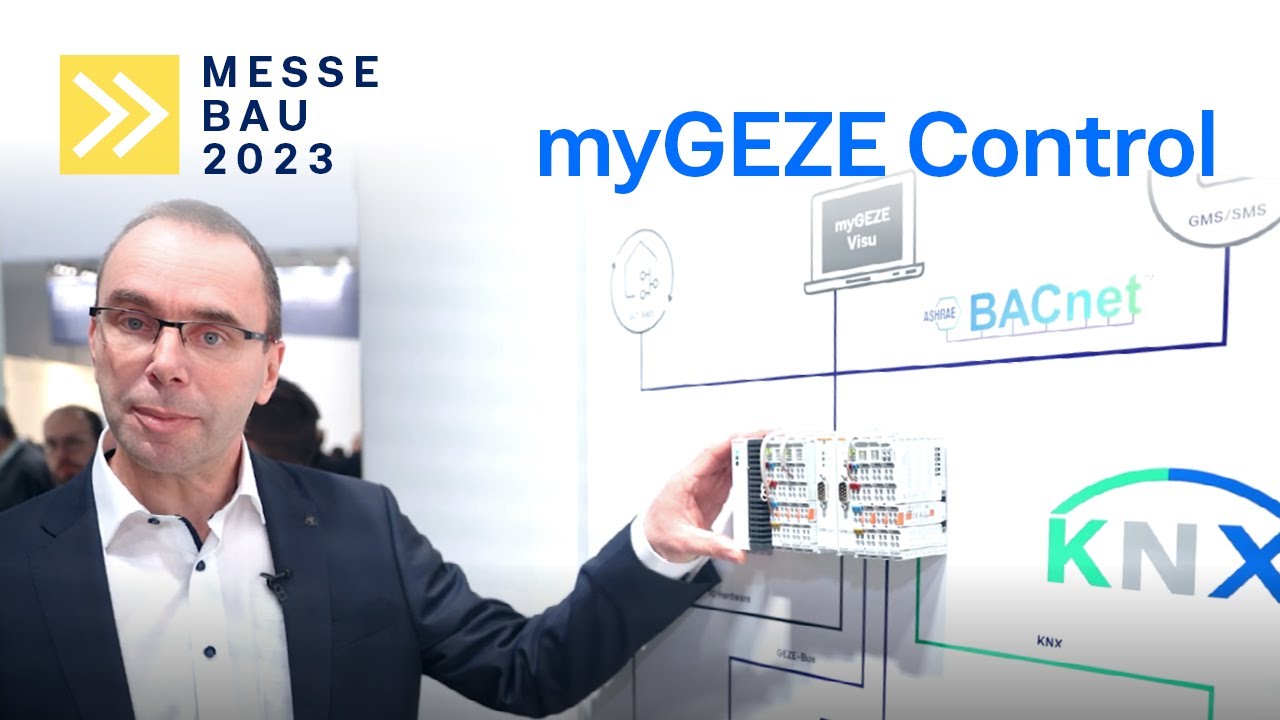 Jürgen Keller, Product Manager Integrated Solutions introduces the myGEZE Control connectivity platform at BAU 2023.
What are specific examples?
Jürgen Keller: The big picture is "optimising asset management with regard to operating processes and personnel"; essentially, the classic corporate concept of a gate with barriers that only grant access to authorised persons is outdated. Today, we are mainly dealing with mixed-use buildings. Every tenant – and there are usually several of them – has their own requirements, based on their respective insurance. Let's consider a specific example: a building is planned for use as a bank. Accordingly, the campus has a gatehouse in front and cameras to secure the outdoor area. Years later, the bank moves out of the building. Now, a restaurant and other tenants move in. This kind of change in building use changes the requirements for building safety as well.
So, in that case, are GEZE technical building systems more than just an alarm system?
Jürgen Keller: They offer monitoring and controlling, not just simple access control systems that open doors when you enter a PIN. Our building automation systems ensure targeted control and monitoring of doors and windows. They also read out building data. Faults and malfunctions in door systems are reliably reported and quickly forwarded to service technicians. This means malfunctions relevant to building safety and operation can be corrected, maintained or repaired quickly. At the same time, this improves the products' durability and the associated aspect of sustainability.
What other building aspects can be improved?
Jürgen Keller: The new building automation and control system myGEZE Control also improves energy efficiency. The façade, for example, can react to changing exterior or framework conditions using sensors for heat, wind or light, automatically extending a shade or opening and closing windows independently, depending on the outside temperature. Automatic window control allows for natural night-time cooling, creating a good indoor climate at the start of the day. Compared to an air conditioning system, this is a cost-saving and energy-efficient method. In this way, the solution also contributes to the sustainable and liveable buildings of the future.
LEARN MORE ABOUT ENERGY EFFICIENT INDOOR CLIMATE CONTROL
Networking windows and doors in the building automation is often complicated. How does myGEZE Control handle this challenge?
Jürgen Keller: The challenge in building automation is integrating all components into a cross-system building management system. This includes doors and windows as well as the heating, air conditioning and lighting systems. myGEZE Control integrates door, window and safety technology into many different areas of building management. To do so, the system uses the BACnet open communication standard, which facilitates seamless integration and interoperability within a building automation and control system. This way, automation components from different manufacturers can exchange information with one another in an interdisciplinary way, making the modular platform highly attractive for system integrators as well. We provide the data needed for integration into the building management system to system integrators in an optimal structure and in the required formats. This streamlines all processes and procedures involved in modern building management in everyday work: what systems still need to be closed? What lights are still switched on? In addition, central control via a tablet means they can trigger a scenario placing the building in secured by day mode with just a click. myGEZE Control also provides support for access-restricted areas, for accessibility, fire protection and emergency exit protection.
myGEZE Control can be used to programme and control even complex systems in a cost-efficient and energy-saving way.
Jürgen Keller, Product Manager Integrated Solutions at GEZE
To what extent is BACnet a unique selling principle on the market?
Jürgen Keller: In our trade of door, window and safety technology, we know of no other manufacturer who is so standardised and who has used BACnet directly on the system level. There are certainly provider-specific protocols and interfaces on the market. These kinds of solutions are, accordingly, complex to integrate into the higher-ranking building management system – or need to be managed in parallel. In contrast, we act as a system supplier, delivering and managing the entire integration solution. At the moment, this is a unique selling principle.
In our trade of door, window and safety technology, we are the most standardised manufacturer using BACnet directly on the system level.
Jürgen Keller, Product Manager Integrated Solutions
The connectivity platform myGEZE Control makes it possible to centrally control door, window and safety systems. For better safety, more sustainable processes and better comfort. We deliver a standardised, open communication solution for integrating doors, windows and security into all areas of building management.
Find out more about about myGEZE Control
Key facts for myGEZE Control
Scenarios involving access-restricted areas, accessibility, fire protection or emergency exit protection can be implemented easily.
myGEZE Control builds on components provided by renowned automation specialist, Beckhoff Automation.
The solution can be integrated into building management systems, physical security management and CAFM systems, independently of a specific manufacturer.
Thanks to standardised BACnet project management, system integration is possible regardless of the service providers or building management product used.
With myGEZE Control buildings can be monitored and controlled remotely, conveniently and centrally via mobile devices. myGEZE Control is scalable and can grow with a building's requirements, or its functions can be individually adjusted to meet changing needs.
GEZE provides support when integrating myGEZE Control and during ongoing operations.