Learn digitally with our online training courses
GEZE seminars and expert talks, streamed online? But of course! In this interview, Peter Wilsdorf, Head of Product Training, talks about how GEZE switched its seminar programme from in-person trainings to online trainings and what GEZE's future plans are with regard to digital learning.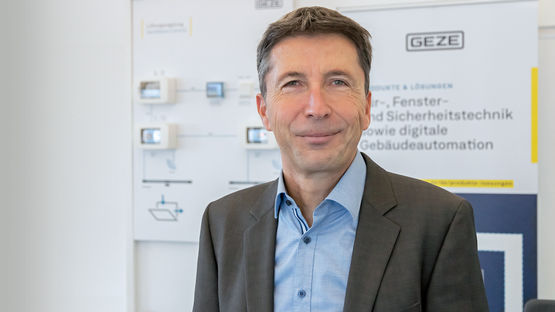 GEZE trainings are designed for installers, architects and planners. © GEZE GmbH
Mr Wilsdorf, the coronavirus lockdown in March 2020 must have had a drastic impact on the GEZE Academy. How did you handle it?
Yes, our entire in-person seminar programme came to a halt at a moment's notice. We were unable to hold any in-person seminars for eight weeks. Many of our key customers had to cancel seminar sessions scheduled over a period of more than 16 weeks.
How did you respond to this new situation?
By introducing a new advanced training tool for booking seminars for our customers! The tool had already been introduced the year before and we were therefore very well prepared. It meant we were soon able to offer our customers online seminars along with appropriate tests. We successfully held our first online event to extend specialist certifications.
Did the changeover to online trainings work smoothly?
Not quite. A WebEx online event with numerous participants requires a lot of bandwidth on the data highway, even without using video. There was some picture and sound interference at times. However, we found the streaming infrastructure in Germany become more and more efficient with each event. Now things work pretty smoothly – you can see that a lot of work has happened in this area and the digital form of training is fast becoming the norm.
What was the initial response of the participants to digital formats?
It varied. For some people, taking part in online seminars is still very unusual. Initially, we had to give customers time to set up their digital infrastructure and familiarise themselves with the technology. As presenters, when we asked questions to integrate the participants and get them involved, it would often remain very quiet. But then, as the online seminars went on, the participants became more active and found the courage to ask us questions online.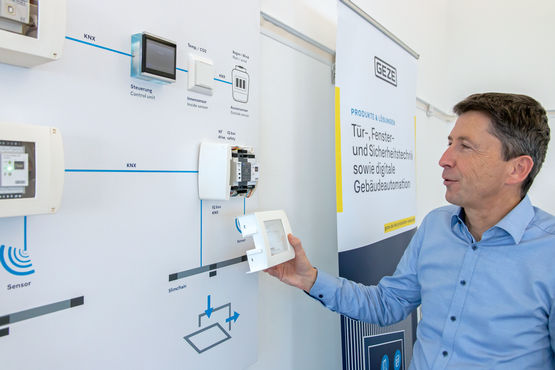 Online seminars have become an integral part of the GEZE seminar programme. © GEZE GmbH
So, what are the plans now with regard to digital learning?
Online seminars for recertification processes and theoretical product training courses have become a permanent feature of our seminar offering, as there has generally been growing acceptance of digital formats and we can reach more customers that way. Business owners in particular are increasingly appreciating the advantages of the online offering and the savings potential that comes with it, for instance in terms of travel time and accommodation expenses. However, we also need to do the technical experts justice and continue offering in-person seminars, particularly when it comes to installation, establishing electrical connections and maintaining our products.
GEZE trainings
We offer you a comprehensive qualification programme on GEZE products and current specialist topics. You can earn a certificate of competence in installing GEZE products and attend seminars on standards, guidelines and their application in practice. You'll receive a participation certificate after the training.
More about GEZE product training