The Penalty Shootout Cup : Football brings people together - at GEZE too
People love football - everywhere in the world. It brings people together at GEZE too, and strengthens bond between colleagues. The Penalty Shootout Cup is organised by the employees themselves and took place for the 2nd time this year in blazing sunshine.
Anyone can take part
We may have over 1,100 employees at our Leonberg site, but people don't remain anonymous. To keep it that way in the future, employees take matters into their own hands. Corporate management is always willing to support such initiatives. During the Penalty Shootout Cup, all colleagues from the different divisions met up along with their families. This enabled families to get to know each other and everyone, from young to old, had a lot of fun.
Football bonds colleagues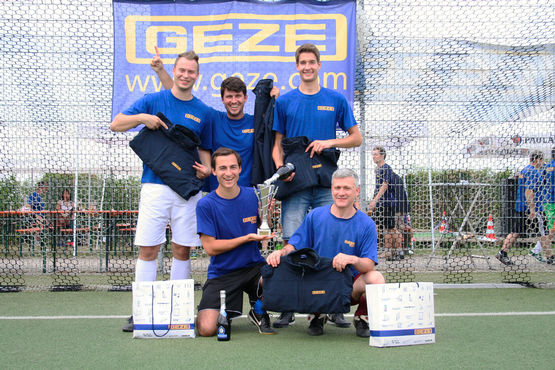 The winning team of the 2018 GEZE Penalty Cup
The indoor football team within the company sports club had an idea about football's ability of to bring different people together. Why can't everyone at GEZE have the opportunity to do something together through football and communicate with each other as a result? It was quickly agreed that a football-themed event would be organised. The organisers considered it to be of the utmost importance that anyone could take part, whether sporty or less so, whether an experienced player or new to the game. The result was the creation of the Penalty Shootout Cup.
Following the great success of the first edition, it is now taking place for the 2nd time. Over 150 players and 19 teams took part at TSV Eltingen's ground in Leonberg. Past the post, over the top, coolly slotted home, give them the eyes, or slam it down the middle. It's always a nerve-wracking experience from 11 metres. But wasn't intended to be competitive - just taking part was all that mattered. 
Party atmosphere on the football pitch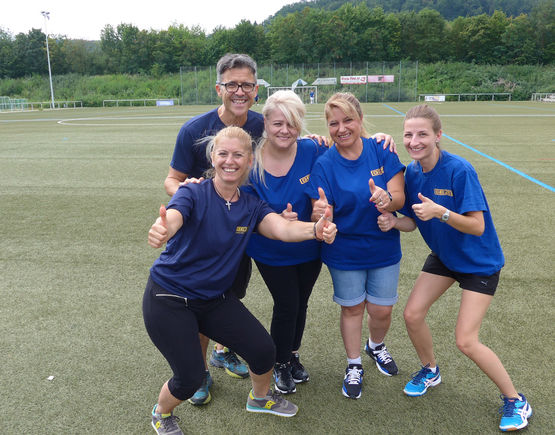 The atmosphere is great!
What's a tournament without the right atmosphere? A DJ led the programme and played music. Hearty food and drink were provided along with fun for the little ones including bouncy castles and face painting. The event was met with enthusiasm. We're already looking forward to next year.
Organisation by employees
As you'd expect, such an event requires quite a bit of organisation. All employees joined in, even outside working hours. From provisions by the DRK, donation receipts for supporting charities, space rental, seating options, and catering - there's a lot to cover. This would not have been possible without helpful employees and financial support from Mrs Vöster-Alber.
Bonding between all employees and good integration of all newcomers strengthens our team spirit. For our common goals. That's why I also like being involved outside of work.
Andreas Demeter, organiser of the Penalty Shootout Cup and sales team leader
Review of the 2018 Penalty Shootout Cup
Our 2nd Penalty Shootout Cup in Leonberg-Eltingen: this was an opportunity to get to know each other better and have fun. See for yourself!
The Penalty Shootout challenge. Photo: GEZE GmbH
Not just for men! Our colleagues also formed teams and had fun taking penalties. Photo: GEZE GmbH
The teams stuck together and encouraged each other. Photo: GEZE GmbH
Every shot was exciting! Photo: GEZE GmbH
Many thanks to TSV Eltingen (Leonberg) for allowing us to use their ground for the action. Photo: GEZE GmbH
Fair Play! Colleagues had lots of fun and enjoyed great results. Photo: GEZE GmbH