A brief 2018 year review
There was good cause to celebrate in the GEZE group in 2018 with plenty of birthdays across eight of the foreign companies. Together, the subsidiaries have proudly contributed to the company's success for a total of 160 years. What's more, maintaining an international presence and organic growth have been some of the most important aims since our story of success as a developer, manufacturer and specialist in products, systems and services for doors and windows started in 1863 in a Swabian turning shop.
Anniversary: 160 international GEZE years
From the company headquarters in Leonberg, we would again like to congratulate our subsidiaries on their anniversaries
40 Jahre France
30 Jahre UK
20 Jahre Italy, Scandinavia and Switzerland
10 Jahre India, Serbia and Hungary
Decades of international presence
GEZE France, founded in 1978, is the oldest and one of the largest subsidiaries. But our family business has been active internationally for even longer than this. The first activities abroad with fittings for doors and windows, door closers and ski bindings started almost a hundred years ago.
In the 1920s, our products were already used abroad in homes and building projects, in trams and railway cars, and in buses, shipbuilding and airships. In 1938, the exported proportion of construction fittings was around 25 per cent. The brand became world famous in 1960 when ski racer Heidi Biebl won Olympic gold with her GEZE ski bindings.
Established in each individual country
Our 28 subsidiaries abroad are solidly established in their respective markets. They all combine the task of creating buildings worth living in with use of our complete product portfolio:
Door technology
Automatic doors
Window technology
Safety technology
Building automation
Networking
This combines:
country-specific, adapted variants
project-specific, customised solutions
Highest standards
Standards are uniformly high everywhere, with the best quality for the respective local needs and requirements for products, systems and services – at all times. The common aim is to support customers and partners throughout the whole cycle of development of a building, from building planning, via installation of the selected solutions and commissioning to the after-sales service.
Best practice
In all of these countries, GEZE experts combine industry experience with professional expertise to handle a wide variety of different building requirements. They also create efficient networks among everyone involved in construction and provide impulses that inspire new ideas. This ensures consistent creation of the best solution with the greatest benefit for large, prestigious projects, and smaller ones too.
The entrance to the Grotte de Lascaux © Jean-Luc Kokel / GEZE GmbH
In the buildings of the world
Showcase buildings around the world illustrate how our standards are consistently achieved time and again. The project managers from the VPEAS office in Bordeaux were impressed by the solution which GEZE France created, with multifunctional door technology and individual door designs for the spectacular renovation of the pre-historic cave of Lascaux in the Dordogne.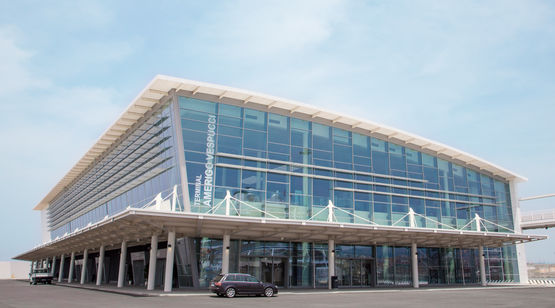 ECdrive sliding door operator at the entrance to the building. © Emanuele Sardi / GEZE GmbH
Together with cruise operator RCT, GEZE Italia significantly improved travel comfort and safety – within a short period of time – for the thousands of cruise passengers who board at the brand-new terminal in Civitavecchia every day. Our Italian colleagues took on responsibility from the start to ensure smooth and quick realisation of the barrier free automatic sliding door system together with everyone involved in the project.
The Downtown Camper lifestyle hotel in the heart of Stockholm and the historic 'Sihlpost' building in Zurich are among the latest project highlights from GEZE Scandinavia and GEZE Switzerland. At the City of Glasgow College, GEZE UK implemented designer revolving doors in close partnership with Sir Robert McAlpine, one of the largest British construction companies with a rich history.
In the Tamil Nadu Government Multi Super Speciality Hospital in the Indian metropolis of Chennai, our colleagues applied GEZE door technology to optimise processes in the areas of clinical operations, visitor traffic and hygiene standards. For this, GEZE India worked together with architects from the renowned office 'von Gerkan, Marg and Partners Architects' (gmp).
Read about other world-renowned and interesting projects from our foreign subsidiaries.
Uniform manufacturing standards
The highest, sustainable production standards are applied uniformly within an international manufacturing network. GEZE Serbia belongs to this network and is celebrating the 10-year anniversary of the production sites - where success is built on a daily basis.
International meeting point
The BAU 2019 trade fair is the next and most important event for our foreign subsidiaries. At the fair, everyone from the GEZE group will show our global customers and partners new products, systems and solutions to support them in all phases of the life cycle.
GEZE at the BAU fair
Press information
For editorial queries
Julia Graf
Phone: +49 - 7152-203-505
E-mail: j.graf@geze.com